Product List
| | | |
| --- | --- | --- |
| | | Front Wheel Hub Bearings |
| | | Rear Wheel Hub Bearings |
| | | |
| | | |
| | | |
| | | |
| | | |
| | | |
| | | |
| | | |
| | | |
| | | Automobile Center Support Bearing |
| | | Steering Gear Box Bearings |
| | | Special Non Standard Auto Bearing |
| | | Automobile Alternator Bearing |
| | | Automotive Air Condition Bearings |
| | | |
| --- | --- | --- |
| | | Deep Groove Ball Bearings |
| | | Angular Contact Ball Bearing |
| | | |
| | | |
| | | |
| | | |
| | | |
| | | |
| | | |
| | | |
| | | |
| | | |
| --- | --- | --- |
| | | |
| | | |
| | | Linear Guide Rail and Block Assemblies |
| | | Precise Crossing Guide Rail |
| | | |
| --- | --- | --- |
| | | |
| | | |
| | | |
Wheel hub bearing(One Generation)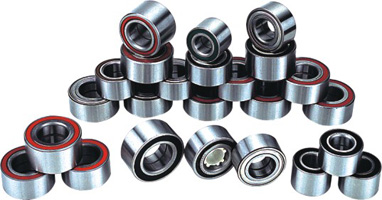 More and more vehicles are equipped with wheel hub assemblies today with various kinds of designs.
The growth of these vehicles has also increased the demand for replacement market.
However the safety concerns and performance are always the top priority of the customers,therefore CIE high quality wheel hub bearing assemblies are built to meet and satisfy the customers' requirement.
CIE meets the need for premium quality wheel hub bearing assemblies with:
"One stop service" from CIE on different generation designs.
More than 400 different types of wheel hub units in three generations are available from CIE. There is application coverage for American, European, Japanese and Korean vehicles.
Different configurations of wheel hub units are available to meet the customer's various needs.
CIE keeps inventory for most of popular items, so minimum order quantities (MOQ) are not required for many items.
CIE standardized packing and the environment-protected packing materials will increase efficiency for customers and reduce the impact and damage to the natural environment.
First Generation hub unit based on a double row angular contact ball bearing .
Used for both driven and non-driven wheel application.
Double row tapered roller bearings are also available.
Double row angular contact ball bearing Two inner rings (2)
Double row angular contact ball bearing Outer ring with flange
Double row tapered roller bearings
IB

NSK

FAG

SKF

Automotive type

630374/C4

522372
543909

BB1B 630374/C4
614593

Fiat, Seat, Polski

DAC225200206A

Fiat, Seat

DAC255200206

617546A

Fiat, Seat

DAC25520037

576467
546467

445539AA

Renault, Peugeot, Citroen

DAC25520043

Renault, Peugeot, Citroen

DAC25550043

Renault

DAC25560032

BAH5000

Citroen

DAC25720043

DAC26520015

639174

DAC27600050

27BVV06-2G

Nissan

DAC28580042

28BW 03A
28BWD08A

昌河 SK410

DAC28610042

28BWD01ACA60

Toyota

DAC30500020

DAC30540024

DAC30600037

FAG545312AJ22C

256706
418780

Fiat, Lada, Lancia, Seat, Volvo

DAC30600337

529891AB
545312
581736

BA2B 633313C
418780
405956A
615505

Fiat, Lada, Lancia, Seat, Volvo

DAC30620016

DAC30620032

DAC30640042

34BWD03ACA78

DAC32700038

DAC34620037

531910
561447

309724
BAHB 311316B

Audi, Volkswagen, Chrystrle

DAC34640034

DAC34640037

6-256907AE7C17
HB-4022C

532066DE
540466B
256907

309726DA
605124
421955

Lada, Opel, Volkswagen, Bedford

DAC34660037

580400CA
479399

636114A

Opel, Vauxhall, Accord(Honda)

DAC35550020
(Air Condition)

DAC35640037

"夏利" TJ7300, Daihastu(大发)

DAC35650035

JRM3535 A/3565XD

BT2B 445620B
443952

Renault

DAC35660032

445980A

Citroen

DAC35660033

BAHB633676
BAH-0015

Fiat

DAC35660037

546238
544307

BAHB311309
BAH-0023

Volkswagen

DAC35680037

PLC 15-12

567918B
541153A
430042C

BAHB 633528F
BAHB 633295B
633967

Fiat, Lancia, Seat, Volvo, Zaztava

DAC35680039/36

35BWD16

Nissan

DAC35680233/30

Nissan

DAC35720017

DAC35720033

548083
456162

BA2B 446762B
BA2B 445535AE

Citroen, Peugeot

DAC35720034

35BWD01CCA38

540763

"五菱" LZW7100

DAC35720228

544033

BA2B 441832AB

Citroen, Eugest, Renault, Simca, Talbot

DAC35720233/31

35BWD06ACA11
35BWD08A

DAC35720433

BAH-0013

BAHB 633669

Fiat, Lancia

DAC35720434

Honda

DAC36680033

DAC3668AWCS36

Suzuki

DAC36720033/28

DAC36720534

8236BW 01 BC A60

Chrysrle、Honda

DAC37720037

PLC15-22

256908
468683

Fiat, Ford, Lancia, Renault, Chrysrle

DAC37720237

527631

BA2B 633028CB
BAH0012

DAC37720437

562398A

633531B

Alfa romeo, Fiat, Lancia, Chrysrle, Renault

DAC37740045

541521C

309946AC
303946

BMW, Opel, Ford

DAC38700037

636193C

DAC38700038

38BWD21CA53

DE-08A32

686908A

"夏利" 7100, Charde

DAC38710033/30

DAC38710039

DAC38710233/30

38BWD09A

Toyota

DAC38720040

38BVV07-10G

DAC38720236/33

38BWD12CA145

Honda, Rover

DAC38730040

38BVV07-20G

DAC38740036/33

38BVV07-26G
38BWD15ACA63

574795A

Toyota

DAC38740050

38BWD06DACA71

559192
(636146)

Nissan

DAC38740236/33

38BWD01A1ACA147

Toyota

DAC38740450

Nissan

DAC39/41750037

AUDI80

567447B
328723

BAHB 633815A

Audi、Passat B5

DAC39680037

4T-CRI-0868
JRM3939C

540733
528810
439622C

BA2B 309692
BA2B 309396
309791
311315BD

Volkswagen, Ford, Audi, Santana

DAC39680637

Volkswagen, Ford, Audi

DAC39680737

Volkswagen, Ford, Audi, Chrysrle

DAC39720037

LDJT39=1

542186A
581169

309639
BAHB 311396B
BAH0036

BMW, Opel, Ford, Bedford, Vauxhall

DAC39720637

542186CA

BMW, Opel, Ford, Bedford, Vauxhall
auto bearing & ball bearing
| | |
| --- | --- |
| Other related category: | Industry Bearing, Power Transmission Parts, Auto Steering Gears |
| Relative Product : | Front Wheel hub bearings, Rear wheel hub bearings, Tensioner&Idler Bearings, Clutch release bearings, Wheel Hub Bearing(One Generation), Wheel hub bearing( second generation), Wheel Hub Bearing ABS system, Water Pump Bearing, Automotive Tapered roller bearings, Steering Wheel Bearings, Universal Joint Kits, Automobile Center Support Bearing, Steering Gear box bearings, Special Non standard Auto bearing |