Product List
| | | |
| --- | --- | --- |
| | | Front Wheel Hub Bearings |
| | | Rear Wheel Hub Bearings |
| | | |
| | | |
| | | |
| | | |
| | | |
| | | |
| | | |
| | | |
| | | |
| | | Automobile Center Support Bearing |
| | | Steering Gear Box Bearings |
| | | Special Non Standard Auto Bearing |
| | | Automobile Alternator Bearing |
| | | Automotive Air Condition Bearings |
| | | |
| --- | --- | --- |
| | | Deep Groove Ball Bearings |
| | | Angular Contact Ball Bearing |
| | | |
| | | |
| | | |
| | | |
| | | |
| | | |
| | | |
| | | |
| | | |
| | | |
| --- | --- | --- |
| | | |
| | | |
| | | Linear Guide Rail and Block Assemblies |
| | | Precise Crossing Guide Rail |
| | | |
| --- | --- | --- |
| | | |
| | | |
| | | |
Automobile center support bearing
Ningbo Cie Industry and Trade Co.,Ltd. is China automobile center support bearing manufacturer and supplier. Our in-house team of approximately 60 experienced engineers is constantly developing newer and better bearing models, and auto parts mainly for steering systems. The most advanced computer aided design (CAD) systems and Germany-imported grinder machines are utilized to incorporate your specific requirements. Our automobile center support bearings have passed the evaluations of ISO 9001:2001 quality management system, ISO1 4001:2004 environment management system and OHSAS18001:1999 certification.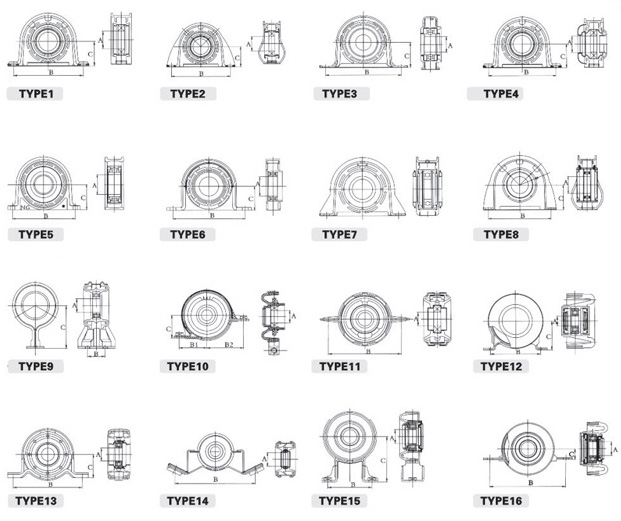 Our Drive Shaft Centre Support Bearing & Assemblies
Application


CIE can offer the Drive shaft centre support bearing & assemblies for both European and American trucks as well as some Japanese car. For more information, please contact with us.
| | | | | | | |
| --- | --- | --- | --- | --- | --- | --- |
| Series No. | Bearing I.D.(A) | Center Line( C) | Mounting Holes(B) | O.D&Height | Bearing no. | Part Type |
| 210433-1X | 40 | 63.5 | 168.4 | 80X21/27 | 88508 | TYPE1 |
| 210391-1X | 40 | 63.5 | 168.4 | 80X21/27 | 88508 | TYPE1 |
| 210084-2X | 45 | 69 | 193.5 | 85X21/27 | 88509 | TYPE1 |
| 210207-1X | 45 | 69 | 193.5 |   | 88509 | TYPE1 |
| 210130-1X | 45 | 69 | 193.5 |   | 88509 | TYPE1 |
| 210121-1X | 50 | 71 | 193.5 | 90X22/30 | 88510 | TYPE1 |
| 210527X | 30 | 93 | 38 |   | 6206-2RS | TYPE9 |
| 210088-1X | 35 | 57 | 168 | 72X17/25 | 88107 | TYPE1 |
| 210370-1X | 35 | 57 | 168 |   | 88107 | TYPE4 |
| 210140-1X | 40 | 63.5 | 168.4 |   | 88508 | TYPE4 |
| 210144-1X | 40 | 63.5 | 168.4 |   | 88308 | TYPE1 |
| 210866-1X | 35 | 57 | 168 |   | 88508A | TYPE1 |
| 211187X | 35 | 57 | 168.1 | 72X17/25 | 88107 | TYPE3 |
| 210875-1X | 60 | 85.7 | 219 | 110X22/36 | 88512 | TYPE2 |
| 210881-1X | 50 | 71 | 193.5 |   | 88510 | TYPE1 |
| 284.009 | 60 | 83 | 200 | 110X22 | 6212-2RS | TYPE1 |
| 284.010 | 45 | 69 | 194 |   | 6209-2RS | TYPE1 |
| 284.011 | 35 | 56.8 | 168.5 |   | 6207-2RS | TYPE1 |
| 284.012 | 55 | 67 | 193 | 90X18 | 6011-2Z | TYPE1 |
| 284.013 | 70 | 88 | 220 |   | 214 | TYPE5 |
| 284.014 | 45 | 56 | 168 | 72X19 | 1639243 | TYPE6 |
| 284.015 | 40 | 62 | 168 |   | 6208-2RS | TYPE1 |
| 284.021 | 55 | 72.4 | 194 | 100X21/21X36 | 6211/8704103 | TYPE7 |
| DT11-783132 | 35 | 59.7 | 168.5 | 72X17/25 | 88507 | TYPE3 |
| MAZDA | 30 | | 162 |   | 80206E | TYPE16 |
| CC1021S | 30 |   | 148 | 55X13 | 6006-2RS | TYPE17 |
| CC0220N | 30 | | 230 |   | 6006-2RS | TYPE14 |
| ISUZU | 32 | 60 | 158 | 75X20 | 63/32-2RZ 3G3/32 | TYPE24 |
| D21 | 30 | 49 | 160 | 62X16 | 6206-2RS | TYPE13 |
| WF6700 | 40 | 60 | 158 | 80X18 | 6208 | TYPE24 |
| EQ140 | 50 | 75 | 230 | 90X30.2 | 63210/3000210 | TYPE23 |
| XMQ6720 | 50 | 79 | 230 |   | 63210 | TYPE23 |
| 2629Benz | 70 |   | 247 | 80X18 | 180114 | TYPE21 |
| LZ6460 | 30 |   | 160 | 62X16 | 6206-2RZ/Z1 | TYPE11 |
| CB875G | 60 | 85.7 | 219 | 110X22 | 6212-2RS | TYPE8 |
| 210661-1X | 60 | 85.7 | 219 | 110X22/36 | 88512 | TYPE2 |
| EQ1060 | 40 | 70.5 | 184 | 80X18 | 6208 | TYPE23 |
| CA9T | 55 | 83.5 | 210 | 100X21 | 6211 | TYPE23 |
| BJ1041/136L | 35 | 66.5 | 158 | 80X21 | 6307 | TYPE24 |
| | | | | | | |
| --- | --- | --- | --- | --- | --- | --- |
| Series No. | Bearing I.D.(A) | Center Line( C) | Mounting Holes(B) | O.D&Height | Bearing no. | Part Type |
| CA141 | 50 | 80 | 160 | 90 | 97210 |   |
| NJ130 | 40 | 68 | 184 | 80X18 | 6208 | TYPE20 |
| T8801 | 30 | 58 |   | 20 | SX0658C3 | TYPE27 |
| NCL | 65 | 102 | 300 | 120X23 | 6213 | TYPE22 |
| CA1046 | 35 |   | 164 | 80X21 | 6307-2RZ/Z1 180307 | TYPE26 |
| HMC6470E | 25 | 52/13.5 | 63/83 | 52X15 | 6205-2RS | TYPE10 |
| MR357998 | 30 |   | 160 | 62X16 | 6206-2RS | TYPE11 |
| AQ6380 | 25 | 59 | 102 | 52X15 | 6205-2RZ/Z1 | TYPE12 |
| SQ6400 | 20 | 60 | 120 | 52X15 | 6304-2RZ/Z1/C3 | TYPE12 |
| CC1021SY | 30 |   | 230 | 55X13 | 6206-2RS | TYPE14 |
| JL6400 | 30 | 98 | 90 | 62X16 | 6206-2RS | TYPE15 |
| FZ1022SA | 30 | 23 | 162 | 62X16 | 80206E | TYPE16 |
| B3Q | 40 | 60 |   | 80X18 | 6208 | TYPE18 |
| ZY130 | 35 | 60 |   | 80X21 | 6307 | TYPE18 |
| JIANGHUAI49102 | 30 |   | 160 | 62X16 | 6206-2RS | TYPE28 |
| 210527X | 30 | 93 | 38 | 62X16 | 6206-2RS | TYPE9 |
| SFQ2050 | 35 | 57 | 168.15 | 72X17/25 | 88107 | TYPE3 |
| 37230-35080 | 30 |   | 230 | 55X13 | 6006-2RS | TYPE14 |
| CBM55HR | 55 | 27 | 190 | 100X21/25 | 621111 | TYPE30 |
| 9800.00 | 35 | 57.1 | 168.5 | 72X17 | 6207-2RS | TYPE1 |
| 9801.00 | 45 | 62.5 | 168.5 | 75X19 | 6009ARS | TYPE40 |
| 9802.00 | 35 | 56.5 | 168.5 | 72X17 | 6207-2Z | TYPE1 |
| 9802.05 | 40 | 58 | 162.7 | 72X17/22 | BB1-1108-2RS | TYPE3 |
| 9803.00 | 35 | 61 | 168.15 | 72X17 | BB1-1602TN9 | TYPE34 |
| 9804.00 | 35 | 56 | 168 | 72X17/25 | 88507 | TYPE3 |
| 9804.05 | 40 | 56 | 168 | 72X17/22 | BB1-1108/2RS | TYPE3 |
| 9806.00 | 45 | 69 | 194 | 85X19 | 6209-2RS | TYPE1 |
| 9807.00 | 40 | 62 | 168 | 80X18 | 6208-2RS | TYPE1 |
| 9807.05 | 100 | 72.75 | 194.5 | 125X8 | 6820LHXZ | TYPE35 |
| 9807.10 | 55 | 62 | 168 | 90X18 | 6011-2RS | TYPE1 |
| 9808.00 | 60 | 67 | 193 | 95X18 | 6012-2RS | TYPE1 |
| 9809.00 | 55 | 70 | 193 | 90X18 | 6011-2Z | TYPE1 |
| 9811.00 | 55 | 70 | 200 | 90X18 | 6011-2Z | TYPE1 |
| 9812.00 | 60 | 80 | 200 | 110X22/36 | 88512 | TYPE7 |
| 9815.00 | 70 | 88 | 220 | 125X28/43 | 6214AA | TYPE5 |
| 9816.00 | 65 | 72.5 | 200 | 100X22 | 60132Z | TYPE7 |
| 9814.05 | 75 | 86 | 221 | 115X20 | 6015-2RS | TYPE36 |
| 9819.00 | 70 | 88 | 220 | 110X20 | 6014-2Z | TYPE5 |
| 9822.00 | 60 | 89 | 220 | 110X22 | 6212-2RS | TYPE5 |
| 9828.00 | 60 | 88 | 220 | 110X22 | 6212-2RS | TYPE5 |
auto bearing & ball bearing
| | |
| --- | --- |
| Other related category: | Industry Bearing, Power Transmission Parts, Auto Steering Gears |
| Relative Product : | Front wheel hub bearings, Rear wheel hub bearings, Tensioner&idler bearings, Clutch release bearings, Wheel hub bearing(One Generation), Wheel hub bearing( second generation), Wheel hub bearing ABS system, Water pump bearing, Automotive tapered roller bearings, Steering wheel bearings, Universal joint kits, Automobile center support bearing, Steering gear box bearings, Special non standard auto bearing |